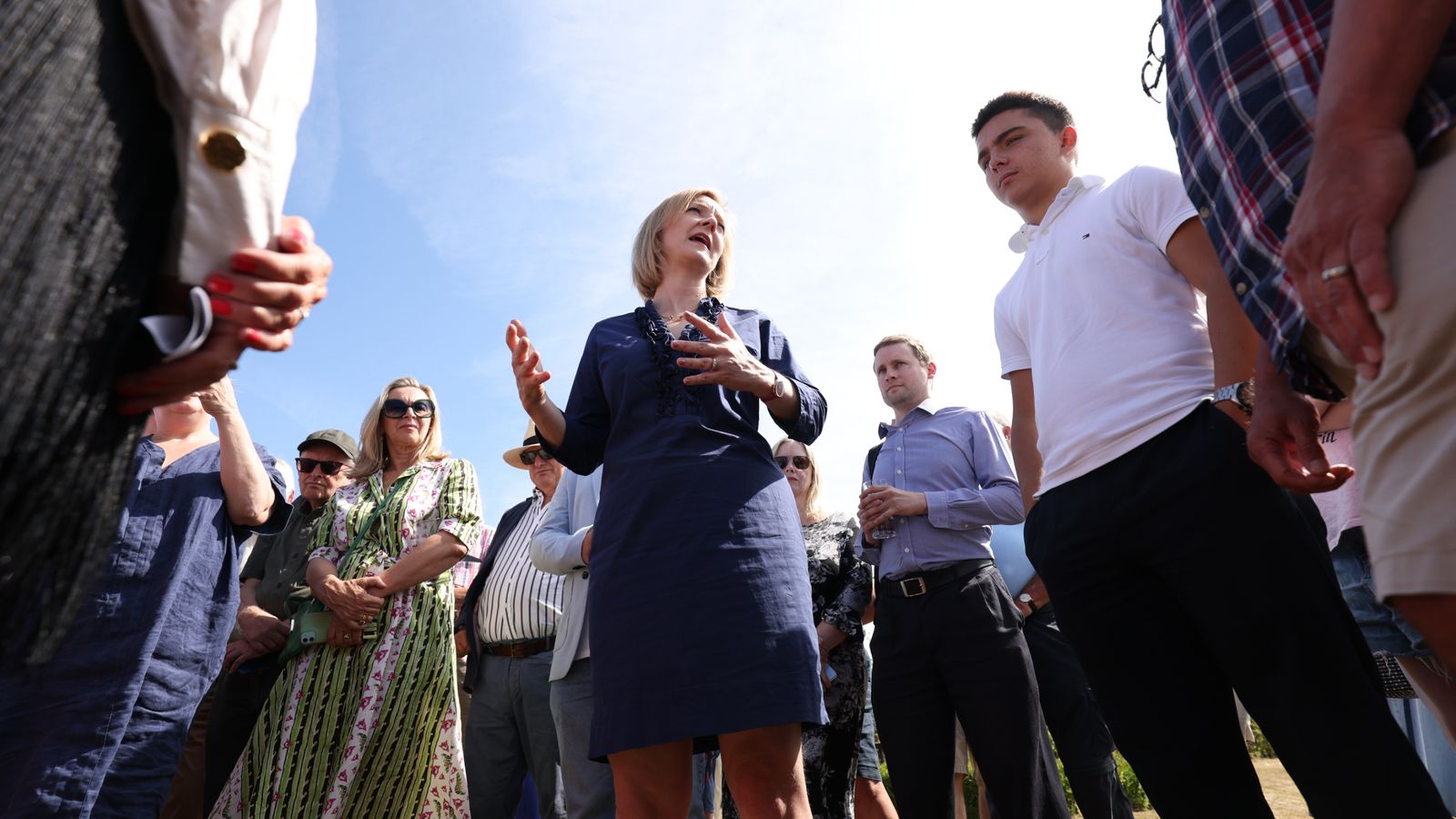 Tory leadership ballots delayed due to security fears | Political news
Security fears have led to delays in Conservative members receiving their mail-in ballots for the party leadership race.
In a letter sent to Tory members – seen by Sky News – the leader of the Conservative Party membership confirmed that mail-in ballots will arrive "a little later than originally planned" as "we have taken some time to add a additional security" to the process.
Members were previously due to receive their mail-in ballots to vote for their next leader – and new UK Prime Minister – this week, but the email says they should now receive their ballots by Thursday 11 august.
Politics Hub: Sunak allies attack Truss' public sector compensation plan
Party headquarters described it as a slight delay and were unable to give further guidance.
A spokesperson added: "We have consulted with the NCSC [National Cyber Security Centre] throughout this process and have decided to increase security around the voting process. Eligible members will begin receiving ballots this week."
A spokesperson for the NCSC said: "Defending the UK's democratic and electoral processes is a priority for the NCSC and we work closely with all parliamentary political parties, local authorities and MPs to provide advice and cybersecurity support.
"As you would expect from the UK's national cybersecurity authority, we have provided guidance to the Conservative Party on security considerations for online leadership voting."
Party correspondence also warns that voting more than once in the ongoing leadership contest will be treated as "an offence", saying any member who has voted more than once "will have their party membership revoked".
Tory members can vote by mail or online, but the party confirmed security fears forced it to scrap plans to allow members to change their vote for the next leader later in the contest.
The leadership contest rules, set by the 1922 Committee of Backbenchers and the Conservative Party's board of directors, stated that members were to vote only once, but if a vote" duplicate" is recorded, the second will be counted.
It is believed that allies of leadership hopeful Liz Truss feared this rule would work to rival Rishi Sunak's advantage, so they may be happy with the change – although the delay in the ballot may help the Sunak team by giving him more time to plead his case.
Earlier Tuesday, a new poll suggests Ms Truss has extended her lead more Mr Sunak in the leadership race as he battles to catch up in a key week in the contest for the keys to number 10.
The latest YouGov survey of Tory members from The Times newspaper shows the Foreign Secretary's lead has widened to 34 points in the leadership race, with 60% of party members now saying they will vote for Ms Truss to succeed Boris Johnson as Prime Minister.
This is compared to just 26% for former Chancellor Mr Sunak.
But the poll was taken in the past five days, before a major U-turn by Ms Truss on a public sector pay policy that sparked party fury.
On Monday night, the favorite said she save £8.8bn by introducing regional remuneration commissions instead of national rules to fix the salaries of civil servants according to their place of residence.
But experts have warned that to hit the sum, the plan would have to expand beyond government departments, with teachers, nurses and police also receiving lower salaries than workers in the South.
After outrage from Tory MPs, opposition parties and trade unions – and less than 24 hours later – Ms Truss' team released a statement saying the policy would not be continued.
Tory MP David Davis said Team Truss announced the policy "without thinking about it".
A former leadership candidate himself, he told Sky News he 'didn't make much of a U-turn', adding: 'If you make a mistake, step back, don't… it' is a good thing."
But Mr David said: "It's a dress rehearsal to be prime minister, you can't afford to make those kinds of errors of judgement.
"When you're Prime Minister… you don't have time to deliberate, your instincts and your judgments are extremely important. And that's what gets judged in this process."
Northern Ireland Secretary Brandon Lewis, who backs Ms Truss, disputed that yesterday's events were detrimental to his candidate and insisted she had proven in her cabinet roles that she was "determined to do the right thing".
He told Sky News: "[She is] someone who seeks to improve our country, to grow our economy, to create more jobs, to improve our education, to advance throughout the country.
"And he's someone who, even when the going gets tough, is going to keep going and get things done."
Other figures from the YouGov poll showed Ms Truss now ahead of Mr Sunak in all age groups, in different parts of the country and with both men and women.
The only category where he beats Ms. Truss is among Tory Remain supporters.
He also revealed that nearly nine in 10 Tory MPs have now decided how they will vote before the ballot papers come out this week.
But it will concern the two potential leaders whom more than 50% of party members believed whoever was elected to succeed Mr Johnson would lose the majority of the party in the next election.
Just 19% of members thought Mr Sunak could lead the Tories to victory, while 39% thought Ms Truss could take on a challenge from Labour.
Voting will close on September 2, with the winner to be announced on September 5 and replacing Mr Johnson the next day.
Battle for number 10
As the leadership race continues to heat up, Mr Sunak and Ms Truss will face the cameras again this week on Sky News.
Taking place on Thursday August 4 at 8pm at Sky Studios in west London, The Battle for Number 10 will see the contestants take part in back-to-back questions from the live studio audience of Conservative Party members who remain largely undecided on who to vote.
This will then be followed by an in-depth interview with Kay Burley.
The program will be broadcast live for 90 minutes and free of charge on Sky News channel 501, Freeview 233, Sky Showcase channel 106 and Sky News digital channels.
The pair also continue to face stampedes across the country, with the final round set to take place in Cardiff tonight.