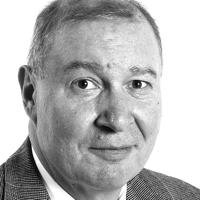 Politics dominates the day as a virus dominates the population | Local News
New Mexico's Great Divide has widened since this month's election. Steve Pearce and Brian Egolf share the blame.
Pearce and Egolf, white men in positions of power, have nothing in common except their ability to drive people apart at the worst of times.
Pearce, chairman of the state's Republican Party, predicted a victory in New Mexico for President Donald Trump. Pearce said Trump would succeed in upsetting the strength of Hispanic voters, as if they were monolithic in support of his candidate.
After Trump lost New Mexico and the presidential election, Pearce joined the crowd pushing baseless allegations of rampant voter fraud in half a dozen states.
"This race is not over. Mystery ballots kept pouring in to keep President Trump's vote away," Pearce's state party said in a press release. "Donate to President Trump's legal fund to help him fight voter fraud and win this election."
The truth is different from Pearce's account, and it bears no trace of mystery.
Most voters preferred Democrat Joe Biden over Trump. People have spoken, but Trump won't listen.
As for Pearce, he once again crossed the line between political spin and hypocrisy.
As a member of Congress, Pearce voted for a bill to reduce frivolous lawsuits. As the Republican candidate for the open U.S. Senate seat from New Mexico in 2008, Pearce said health care costs would come down by ending frivolous lawsuits.
Now Pearce is supporting Trump's frivolity, arguing for lawsuits that waste judges' time and taxpayers' money.
Worse still, Pearce is soliciting donations to fund a lame president's lame litigation while an estimated 107,000 people in New Mexico are out of work.
The next time state Republicans decide to make tort reform their priority, they can call Pearce as an expert witness.
The Democrats should have had a good laugh at Pearce's expense, but Egolf ruined the moment for his team.
A Democrat from Santa Fe, speaker of the state House of Representatives, Egolf has proven to be someone willing to manipulate legislative boundaries for political gain.
In particular, Egolf mentioned New Mexico's 2nd congressional district. Since Republican Yvette Herrell of Alamogordo had just ousted a freshman Democrat in the 2nd District, Egolf's comment sounded like a gerrymandering plan.
"Next time it's going to be a different district and we'll have to see what that means for the Republican chances of holding it," he said.
New Mexico has only three congressional districts. Albuquerque and a few nearby towns make one. Another covers southern New Mexico, and the third spans the northern half of the state.
There isn't much room for sweeping change unless lawmakers want to risk the backlash of dividing Albuquerque into separate districts.
Egolf considered his comment on the redrawing of the 2nd District to be innocent enough. He attempted to recover with a written statement saying the redistricting would not be a partisan issue.
But the damage was done. With Democrats controlling the governor's office and both houses of the state legislature, everyone knows they can be a juggernaut at changing political boundaries.
State lawmakers likely won't begin redrawing precincts until the second half of 2021. It's already clear that this will once again turn into a lengthy and expensive court case.
Egolf's comment will benefit Republicans when they take legal action for injustice. They can claim the speaker's mindset was to manipulate the redistricting to take back the only congressional seat Republicans hold in New Mexico.
It is the natural instinct of political animals to grab any advantage. Sen. Mitch McConnell, R-Ky., was happy to block one U.S. Supreme Court nominee and fast-track another, all to advance his party's interests. Victory goes to the side with the most numbers – and the sharpest claws.
After a bitter national campaign and Trump's refusal to congratulate or even acknowledge his successor, the country is more divided than ever.
New Mexico is no different. The grudge matches continue with no sign that political parties are shelving the election and mobilizing to blunt the coronavirus.
If you keep score, the disease is winning.
Ringside Seat is an opinion column about people, politics and current affairs. Contact Milan Simonich at msimonich@sfnewmexican.com or 505-986-3080.