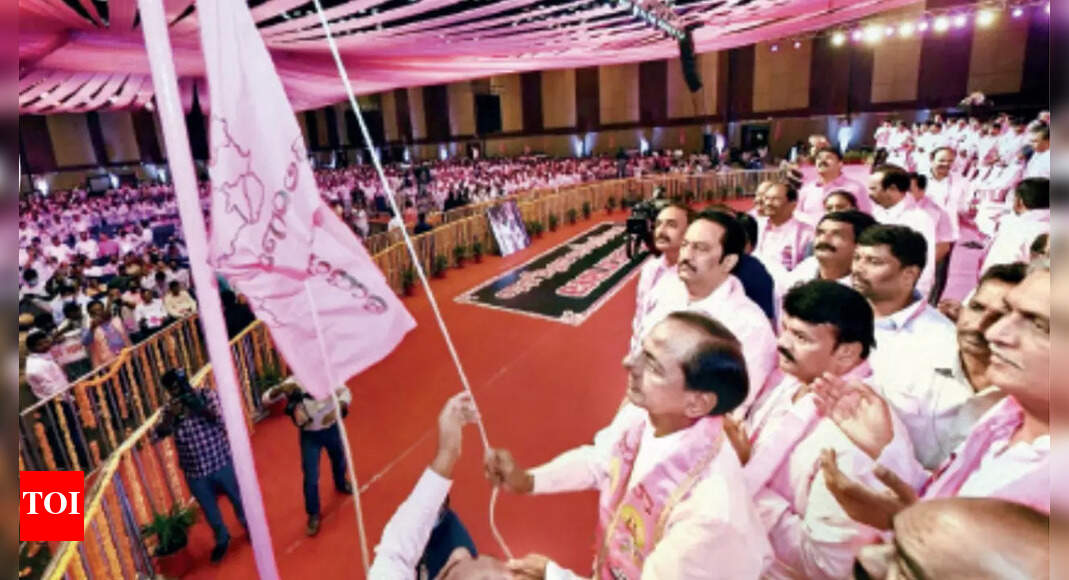 telangana: Telangana Rashtra Samithi decides to play a key role in national politics | Hyderabad News
HYDERABAD: The TRS, which has been stepping up its attacks on the BJP government in the Center lately, passed 12 out of a total of 13 resolutions on Center-related issues on Wednesday.
While some were political issues, the others were related to the injustice inflicted on Telangana by the Centre. The ruling party also demanded that the issue of water sharing of the Krishna River be referred to the court of Brijesh Kumar.
The party decided to play a key role in national politics under the leadership of party chairman K Chandrasekhar Rao. She also expressed concern about the growing religious intolerance in the country. The TRS called on people to fight united against the "barbaric actions" of certain political forces and to protect national integrity.
Acting TRS Chairman KT Rama Rao said the country needs a torchbearer like KCR to protect the social fabric of the country, to lead a growth-enhancing government and to introduce a "Golden Telangana" model. " in all the countries.
KTR, while presenting a resolution on "SRT should play a key role in the general interest of the country", said that India is a multicultural and multilingual country that needs to be protected as it is going through a difficult phase.
KTR said there were only two great leaders – NTR and KCR – in the history of Andhra Pradesh. "KCR not only created history by founding a party and leading a state movement, but also created the geography of Telangana," KTR said.
The party criticized the Center alleging its failure to amicably resolve the issue of paddy supply. He also asked the Center to reduce the prices of fuel and basic necessities which weigh heavily on the middle classes. Although crude oil prices have fallen, the Center is raising fuel prices indiscriminately.
He also called for improved reservations for STs and minorities based on their population. The TRS demanded an increase in quotas for Muslims to 12% from 4% in proportion to their population. The ST reservation should also be increased to 10%, the party demanded.
He also passed another resolution providing for a 33% reservation for women in all legislative bodies and said a resolution to that effect had been passed by the state legislature and sent to the Center for consideration.
In a separate resolution, Finance Minister T Harish Rao said the Center is taking a "weaker states-strong Center" approach to financially weakening the state. The Center should pay 41% devolution to the States. But, the Union government collects taxes in the form of cess so that the states do not insist, he alleged. The ruling party alleged that the Center was deliberately adopting late tactics to resolve water disputes after the bifurcation. The Center also creates obstacles to the completion of projects, he said.